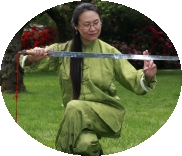 Xinli (Cindy) Du  LAc. EAMP. MOm. RHT, CHT  Spring's exuberant energy (meaning in Chinese)  xinli007@AcuSpaceHealthClinic.com
As an ex-Microsoftee, I used to live a really focused and exciting life stiffing my neck before computer all day long and sometimes even into early mornings. The enchantment of new computer technologies, Microsoft's young culture of working hard and play hard, and those stressful deadlines, made me pretending that I was in my 20s, and ignoring my body's signals begging for a healthier life style.
This realization came to me one day when I was sitting on an ergonomics ball and felt my neck, shoulder and back aching all over. The pain I experienced that day rekindled the desire for Chinese medicine that interested me in my youth. I took out the dusted Chinese medicine books I studied in a certificate program in Beijing University of Chinese medicine and pondered about the possibility of a life that was energetic and nurturing once again.
Later, I enrolled in a master program for Acupuncture and Oriental medicine from the Seattle Institute of Oriental Medicine (SIOM). The process of learning Chinese medicine proved to be also a transforming one. While we were called to be healers, we experienced healing also. My inner ability as a healer awakened when we learned to observe our own subtle body energy movements and those in our patients, both in our acupuncture classes and our Qi Gong exercises. The feelings of awe came to me again and again when I witnessed how our bodies stood up with amazing healing power tapped by oriental medicine, when exposed to a spectrum of treatment styles from gentle to intense offered in our curriculum. I enjoyed every bit of the learning processes and especially in our Qi Gong classes and developed the confidence and urge to share what I have experienced to my patients.
Through the 3 years of study, besides nearly a thousand hours of  day in and day out school clinic internship since day one of my program, I also experienced different treatment scenarios in Horizon House acupuncture clinic, Evergreen Treatment Services (an addiction and detoxification center), Asian Counseling and Referral Services and the Pike Place Market Senior Center. I also went back to China and learned from a martial artist and Chinese medicine doctor about finger needling technique which is a combination of martial art and acupuncture.
Now I became an East Asia Medicine Practitioner credentialed by the National Certification Commission for Acupuncture and Oriental Medicine and a licensed acupuncturist in Washington State. My mission is to help my patients to regain their health through observing their life energy, honoring it and cultivating it.
I love martial arts and opera singing. So I am especially interested in helping singers with their voice/skin condition and patients with sports related injuries. Since I have experienced the middle-life health crisis,  I am especially interested in chronic health concerns and various syndromes that are a the result of our rushy-pushy modern life.
I am teaching Tai chi and Qi Gong in another organization and like to integrate that into my private session.
My acupuncture styles are mostly gentle. I spend a lot of time palpating patients and use palpation info to determine treatment plan and gauge treatment effectiveness. As a result, I spend much more time with the patient to achieve better results. I like to combine different techniques to achieve optimal results.
I am especially interested in the following area. If you would like to know my full practice scope, please refer to Our Practice.
Stroke rehabilitation/Sports injury/Pain reduction
Diabetes management/Diet and weight loss/Cardiovascular diseases/Hypertension/Hyperlipidemia
Stress/Menopause symptoms/Depression/Anxiety
Vocal Chords/ Throat condition/Respiratory system (also for children)
Digestive system ( also for children)
Women/Men's reproductive Systems and Anti-aging
Facial rejuvenation and dermatology
I also added two modalities to my tool box to help with traumas and chronic issues related to past experiences and complicated life situations. They are cranio-sacral therapy and client-centered hypnotherapy. I learned from Einart Arian, Nancy Witt, Steve Hall, Etienne Peirsman and Mary Lee Labay since 2013. I have already integrated the modalities with my acupuncture treatment, and is offering more involved integrated programs.